Discovering Dragonfly Events & News 
This project has now completed, however please read below to find out what happened whilst it was running.  (We are though planning to utilise the dragonfly displays and photograph exhibition to be present at other venues in the future, and we would love to hear from community groups who would like a visually assisted talk about dragonflies and the project.)
Project Grand Celebration Event – Sunday 15th September 2019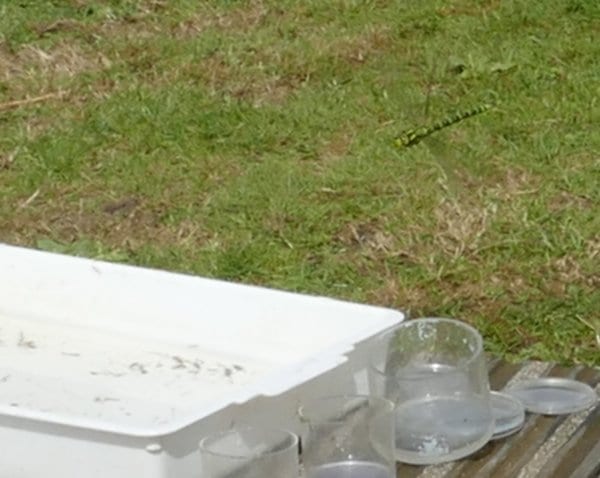 To celebrate the achievements of this Heritage Lottery Funded project this day featured the most successful elements of the project – dragonfly display, dragonfly willow weaving, pond dipping and microscopes, underwater camera, dragonfly trail and extra family dragonfly related activities.  It also showcased the Dragonfly & Wildlife Photographic Exhibition (formed from some of the photographs taken during the project), together with more project photos rolling on a big screen.  
Those that came really enjoyed the fact that there was such a range of activities to do and things to look at, meaning that they really got immersed in the world of the dragonfly – finding out about them, their lifecycles and how beautiful they are to see. 
Summer Holiday Pond Dipping & Dragonfly Activities (2018 & 2019)
Throughout the whole of the school holidays there was pond dipping again, plus dragonfly related crafts and additional activities in a small marquee next to the Dragonfly pond.
Overall about 1400 people took part in the dipping and activities, which included microscope and underwater camera viewing as well as making dragonflies.
 Dragonfly Identification Workshops – Wednesday 31st July 2019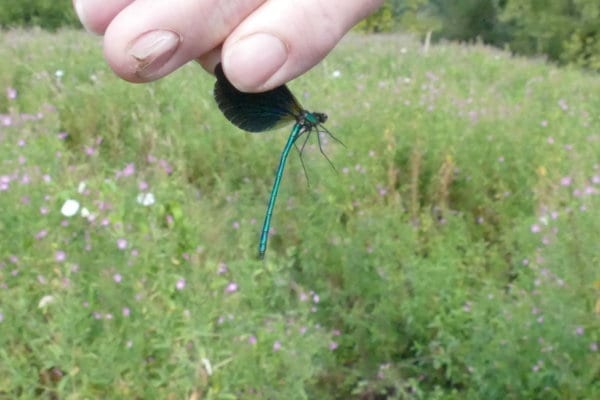 Led by Dave Smallshire, Devon County Dragonfly Recorder, the morning session at Chard Reservoir was attended by all of their volunteer rangers  as well as few other keen dragonfly enthusiasts.  Venturing around the Reservoir in search of dragonflies we spent most of our time not looking over the water as many people (me included) would think, but actually in the meadows surrounding the Reservoir itself, because they like sheltered spots to lie low if it is cool and windy – which it was!  Well the sun did peek its head out and it got warmer throughout the morning and we did manage to find quite a few Common blue damselflies, which Dave caught in his butterfly net and we got a close-up view of.  Also a powdery blue Broad-bodied chaser obliged us by resting on a very visible perch. 
Near a small stream we had the privilege to see the spectacularly metallic and brilliantly coloured Beautiful demoiselles in the hand (holding them by their incredibly strong wings is the best and safest way to hold a dragonfly) – pictured here.  Over the Reservoir itself we were treated to Black-tailed skimmers flying low over the water… as their name suggests.
So a fairly fruitful few hours, not just in terms of dragonflies seen, but also the generation of inspiration and interest for dragonflies, which will lead to the Reservoir volunteers being able to do some dragonfly recording in the future, and tell their visitors about what dragonflies they could see.
The afternoon was spent at Ferne Animal Sanctuary, and the weather unfortunately meant that not many dragonflies were seen, however there was plenty of really useful advice, not only on how to recognise some dragonflies, but also how to improve the management of some of the ponds at Ferne for them.  One dragonfly that we did see that has not been recorded at Ferne before was the Golden-ringed dragonfly which breeds in fast flowing streams which are lacking at Ferne, so must be a visitor.
Wildlife & Dragonfly Photography Experience – Saturday 13th July 2019
Following the success of the session last year, professional wildlife photographer & tutor, Iain Green once again helped inspire and improve attendees' vision, observational skills and techniques and tips in taking photographs of dragonflies and other wildlife – no matter how common.
As well as another session for adults, this day also featured a special session for those under 18.  Whilst the weather once again was nowhere ideal for dragonfly spotting, there were some very imaginative use of cameras of all types (including mobile phones and compact cameras, which are more than capable of taking great wildlife images) from all ages of the participants.
Some of these photographs will be used in the Dragonfly and Wildlife Exhibition as part of the Discovering Dragonflies Celebration event on September 15th. 
Dragonfly Sculptures Willow Weaving
In March & May 2019, local people learnt learn how to make a large willow dragonfly sculpture.  All the attendees were from local community groups such as volunteers at Chard Reservoir, Yeovil Country Park, Chard Improvement Action Group and Long Run Meadow (Taunton). Participants will place their dragonflies in their respective community area. Also they were shown how to make a simple willow dragonflies – which they then can show others in their community groups – thus cascading and maximising the benefit of the project.
The Amazing Story of the Dragonflies and the Duck Pond
In the late Summer of 2018 staff at Ferne found that three dragonflies have emerged from the duck pond here.  Not so surprising I hear you say – I beg to differ as these dragonflies seemed to defy the odds for three reasons:
The duck pond at Ferne gets cleared out regularly, and I mean completely cleared of all water and mud at least once a year.
There are a lot of ducks in the duck pond, for which a dragonfly larva would be a tasty treat.
The dragonfly larvae had to crawl several metres to get to both the chicken coop and duck shed where the exuviae (the skins left behind after they emerge from the larva) were found.
The dragonfly that emerged in the chicken coop was actually spotted before emerging, so some great pictures of this taking place can be seen in the Gallery.  Alas the story didn't end happily, as a gust of wind entangled its wings in its legs.  Whilst it did disentangle itself, as a dragonfly's wings are so delicate soon after emerging, the dragonfly couldn't fly.  Emergence is when a dragonfly is really vulnerable to predators as well as the weather, so two out of three 'aint bad.
Dragonfly Identification Course
This was held at Seaton Wetlands on Saturday August 11th  2018 which alas was cool and wet, and subsequently not good at all for seeing dragonflies.  However Dave Smallshires, the Devon Dragonfly Recorder, did an excellent presentation, with some amazing slides of dragonflies.  This included plenty of top tips on how to tell apart some of the similar species – such as 'lights on full beam = Southern Hawker'.   We even managed to find a couple of species of damselflies on our forays into the dampness.   Almost half of the attendees were volunteers at Seaton Wetlands, so the course definitely will contribute to an increase in dragonfly records for the reserve and the local area.
Photography Course
This was led by wildlife photographer & tutor, Iain Green and held at Ferne Animal Sanctuary itself on August 15th – a much better day for dragonflies than the 11th!   This started with a brief introductory session inside in which Iain gave us some handy close up photography tips and excellent food for thought into what it is we are trying to capture and why.  For example do we want to include the background (which by the way should be out of focus!) to show a sense of place.  This latter point I actually put into practice that very evening as a dragonfly emerged on a chicken coop at Ferne – see the pictures in the Dragonfly Gallery
We then headed outside and tried to put some of these tips into practice whilst Iain concentrated on 1-2-1 tuition.  We did seem to congregate and spend most time at the aptly named Dragonfly Pond, where Common Darters and several species of damselflies put on a good show.
Grand Launch Event
The grand launch on the 22nd July showcased taster sessions of some of the dragonfly themed events that will be happening over the whole of the project.   The weather was really hot and sunny, which was great for dragonflies, but not so great for people.  All four of the free sessions on willow weaving and jewellery making were fully booked and some amazing things were made.
Also the pond dipping and drop in crafts proved really popular, with over a hundred people getting involved.  With so much time spent on the special dragonfly trail and display, these are remaining up over the Summer holidays so many more Ferne visitors can find out more about the fascinating lifestyle and wonder of dragonflies.