Fundraise for Ferne
Have you ever thought about doing something to raise money for us?
Fundraising is a great way to help support Ferne. Every penny raised helps us to continue our vital work providing refuge for unwanted and abandoned animals.
It is also not just about raising money, it is about raising awareness, inspiring others and for your own personal achievements.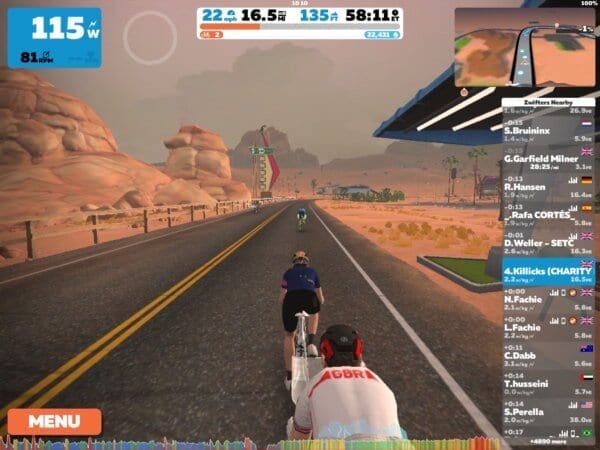 What can you do?
We all know 2020 is not a normal year, which means we need the support of our fabulous fundraisers more than ever!
There are still plenty of things you can do to help raise money either online, in our bubbles or socially distanced – from fitness challenges of all shapes and sizes, to online quizzes, a garden sale to get rid of all the things you've sorted during lockdown, making and selling cards, a sponsored head shave, or even a car wash afternoon.
We'd love to hear any ideas you have and are here to support you to make them happen!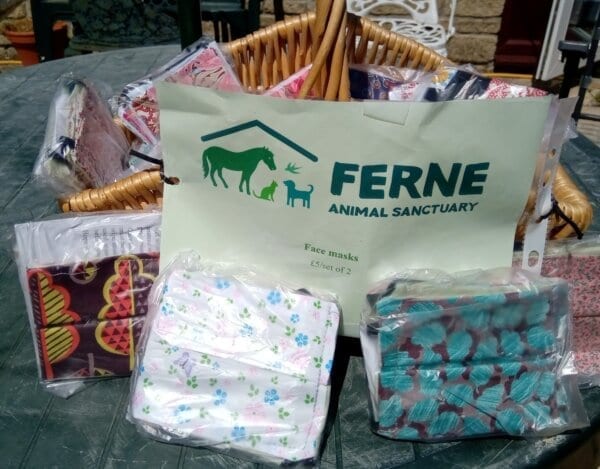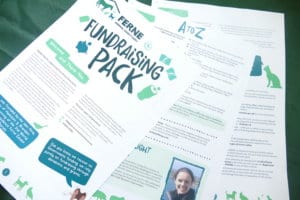 Inspired?
Have you been inspired to fundraise for us or have you already thought of a challenge or event? Download our Fundraising Pack here. It contains lots of handy fundraising tips and information – including a full A-Z of possible fundraising ideas and lots of them can be adapted to the current regulations. Find out how your money will make a difference from some of Ferne's own animal success stories and of course how we can help and support you along your fundraising journey.
Fundraise online
Set up your own online fundraising page using Just Giving or Virgin Giving.  It doesn't take long to set up and it is a fantastic way to share your fundraising story across social media and get instant donations. Plus we will receive all the donations directly from your page.
Sponsorship
If you want to raise money offline via sponsorship send us an email or call 01460 67587 and we can send you a Ferne sponsorship form.
Skydiving – something you have always wanted to do? Now's your chance!
A team of Ferne staff and supporters decided to throw themselves out of an aeroplane, all to raise money for the animals here at the Sanctuary. Our fearless fundraisers achieved the highest possible skydive without an oxygen supply!
Is this something you have always wanted to do, but just never had the opportunity? Maybe you have done it before and the skydiving bug has bitten? Why not follow in the footsteps of our skydiving team and do something amazing in 2020!
You can jump for free if you fundraise for us first. If you choose to skydive with Skydive Buzz near Honiton, all you need to do is raise a minimum of £395 for Ferne through sponsorship and the aeroplane door awaits you! And you can choose a date and time that suits you.
If this is something you would like to do, please do get in contact with our Fundraising team on 01460 67587, or by email.
Visit the Skydive Buzz website here for more information on charity skydives.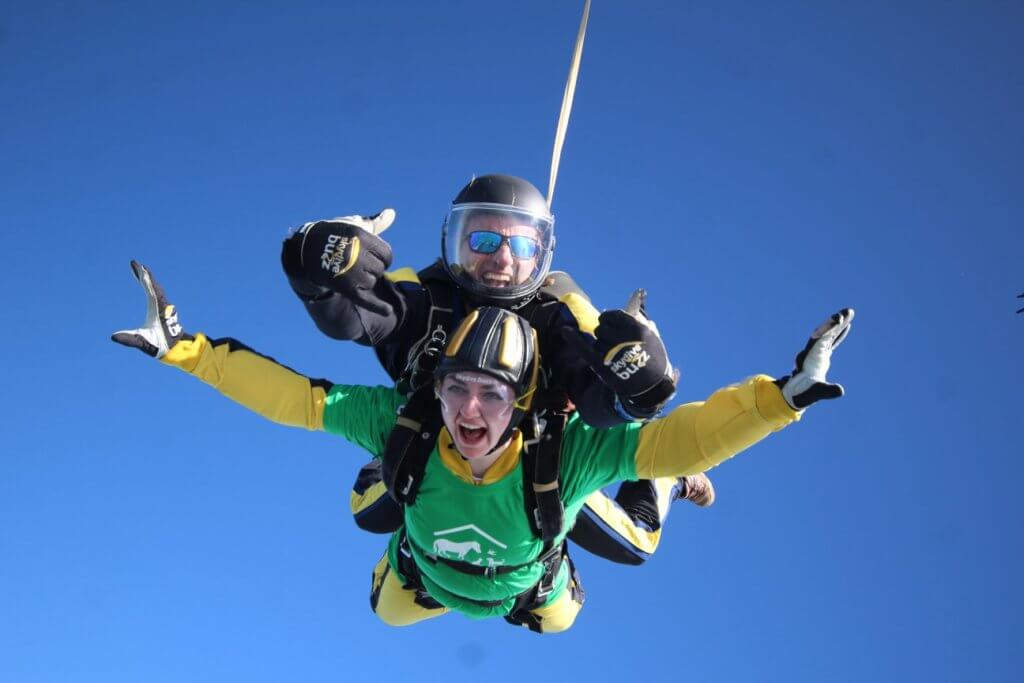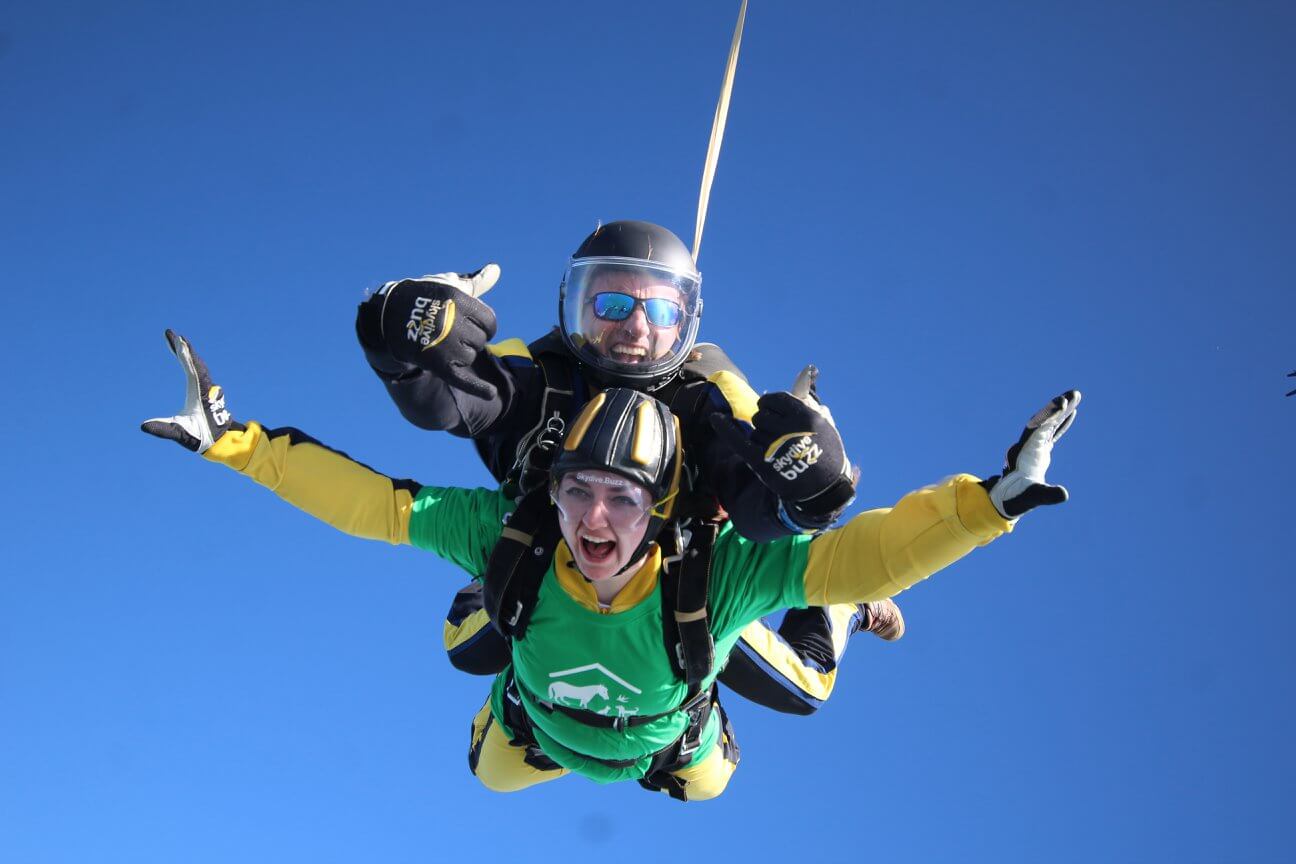 Sending your Fundraising money to Ferne
Once you have collected all the money from your fantastic fundraising event or activity, please send them into us using one of the following methods:
By PayPal
Please click here to visit our Donations page where you can submit a donation via PayPal.
By Phone
Please call 01460 65214  with your card details during office hours (Monday to Friday, 9am – 5pm).
By Cheque
Please make your cheque payable to "Ferne Animal Sanctuary" and send to: Ferne Animal Sanctuary, Chard, Somerset TA20 3DH
Please include your name, event or challenge details, address and phone number. If paying through PayPal – please let the fundraising team know you have used this method. Thank you.
Don't forget to send us your fundraising stories and photos!
We love hearing what our supporters have been doing to raise vital funds for Ferne. Please send in or email us any interesting stories and photos about your event or challenge.
For more information
Please call us on 01460 67587 or email us at frm@ferneanimalsanctuary.org