Join us for the months of July and August in our Trails for Tails 250km Challenge and help raise vital funds for animals in need.
Ferne has provided refuge to unwanted and abandoned animals for over 80 years and is home to over 300 domestic and farm animals. Our mission is to rescue, rehabilitate and re-home animals which through no fault of their own, find themselves in need of some care, attention, and a safe helping hand.
Each year we re-home approximately 250 cats and dogs, all of which receive the treatment, care, and love they need to enable them to live a happy life in their new forever homes.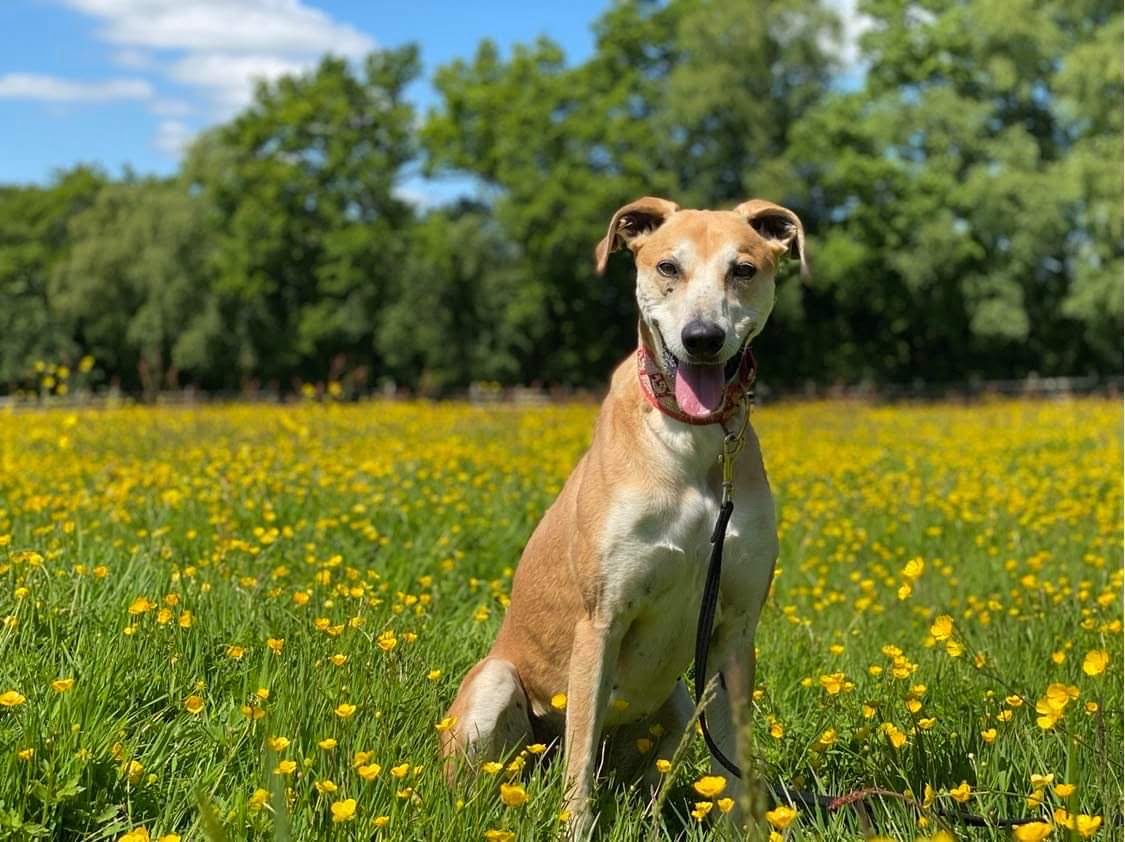 Ready to take to the trails? Here's how it works:
Whether you're a fitness fanatic or a steady stroller, our Trails for Tails 250km challenge is a great way to get active whilst raising vital funds for the animals in our care. Your participation can provide more tail-wagging moments for pooches experiencing their new forever home, or gentle purrs for the cats sleeping on a soft blanket for the first time. Whatever your reason for taking part, you will be making an incredible difference to the animals at Ferne.
All you need to do is first sign up to our Trails for Tails 250km Challenge via our dedicated JustGiving fundraising page, or by joining our Trails for Tails Facebook group. Then, from the 1st July to the 31st August, cover the distance of 250km via whatever means you wish…run, walk, cycle, swim – the choice is yours! You can take on the challenge individually or sign up with friends and family to share the distance. Perhaps you have a four-legged friend who would love to join you – but remember to keep them safe during warmer weather.
You can track your distance via our downloadable distance tracker, or using an app such as Strava which you can also link to your JustGiving page. Participants don't have to prove their distance, but these tools are recommended to help you stay on top of your goal…and of course, no driving is allowed!
Finally, be sure to share your fundraising page with family and friends to boost morale, generate donations and prove how brilliant you are.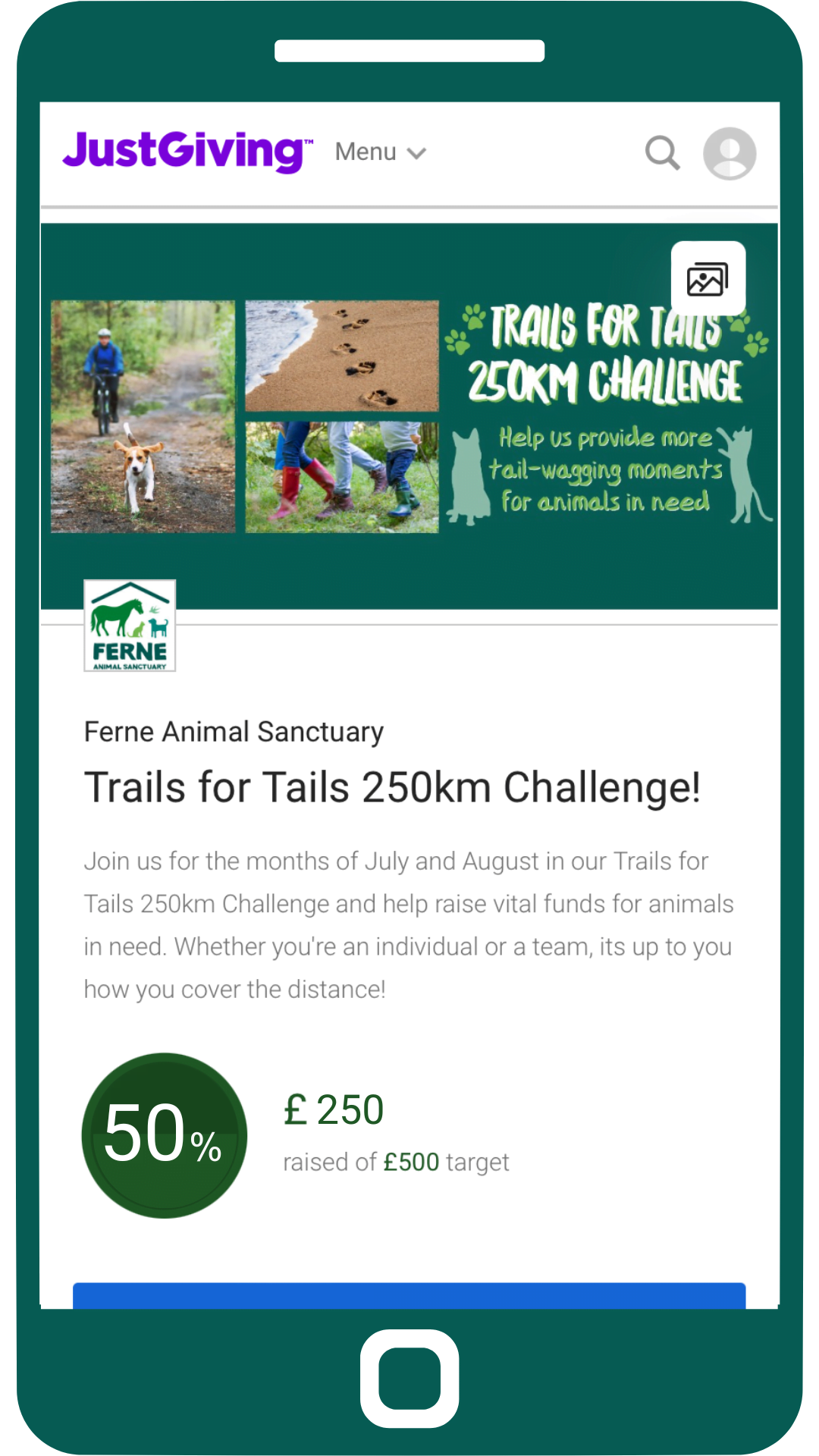 How will you make a difference?
By taking part in our Trails for Tails 250km Challenge, you will be directly contributing to the Sanctuary and the animals at Ferne. The funds raised from the event will help us provide essential care, food, shelter, and veterinary treatment to those who have found their way to us and need a helping hand.
Our team work tirelessly to rehabilitate animals who have come to us for a variety of reasons, some who have experienced significant trauma, neglect, and mistreatment. By taking on this challenge, you can help us give them the best chance at finding their new new forever home, or where this isn't possible, the best life with us here at the Sanctuary.
Help animals like Bueno
Bueno was brought to Ferne as a stray – very malnourished and with a nasty skin infection. Our dedicated Animal Care team nourished Bueno to a healthy range for a cat his size and gave him antibiotics and pain relief for his extensive sores.
With time, Bueno's skin started to heal, and he put on good weight. He is a real favourite amongst the team, who worked hard to nurse him back to health.
Bueno didn't have a voice to ask for help when he was cold and alone outside, but because someone spoke for him, he was given the second chance that every animal deserves.
Your participation will ensure that we are always there for animals in need like Bueno.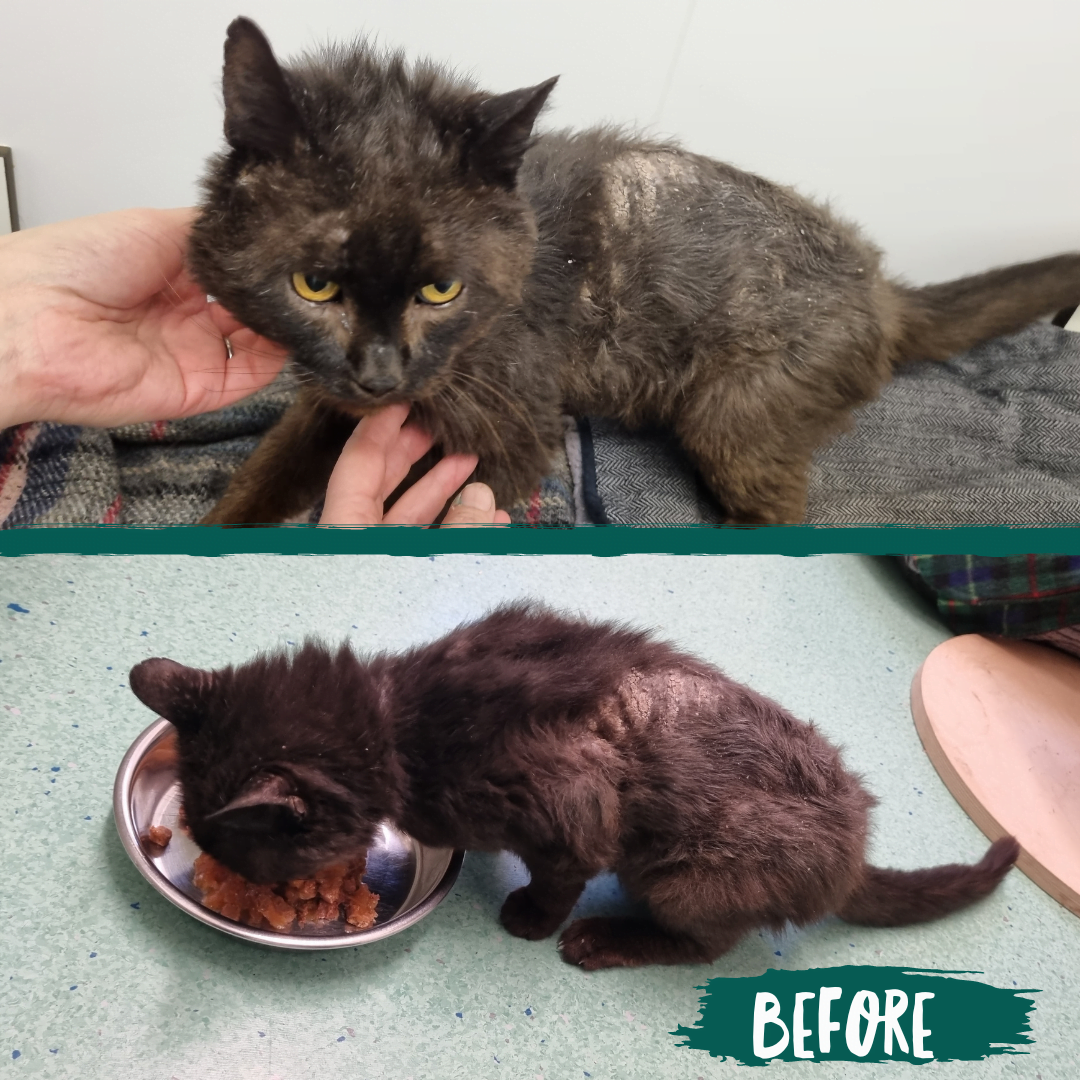 Downloadable Materials
We have prepared a printable sponsorship form for offline donations and a distance tracker to help you keep on top of your goals and track your progress!
Frequently Asked Questions
What is Trails for Tails?
Trails for Tails is a virtual 250km Challenge hosted by Ferne Animal Sanctuary, running from the 1st of July to the 31st of August. You can sign up for the challenge individually or as a team to cover the distance by whatever means you choose – except driving!
How do I sign up?
It's super simple to sign up to our Trails for Tails 250km Challenge! You can either:
Sign up via our JustGiving Campaign Page
Join the Trails for Tails 250km Facebook Group and set up your Facebook Fundraiser!
Is there a registration fee?
Neigh! This virtual challenge is FREE for anyone to take part. We hope supporters will take the opportunity to help us raise vital funds for all the animals in our care.
How can I track my distance?
There are a few ways you can track the distance you have covered, including downloading our distance tracking poster which is downloadable here.
You can also use a smartphone/watch if you have one to track your distance, or link your Strava account to your JustGiving page too!
We won't ask for proof of your distance, but these are a great way to stay on top of your goals and share progress with family, friends and supporters!
Do I need to be ultra fit to take part?
Certainly not! Our Trails for Tails Challenge is designed for supporters to get involved in the way that suits them best. Whether you spread the distance across the whole two months, or do it in one month, its up to you!
We want our supporters to take ownership of their challenge, and do it in any which way you like. You can adapt the challenge to suit your needs and abilities, and Ferne will be here to support you all the way!