Visitor Centre
Everyone wishing to access the grounds of the sanctuary does so via the Visitor Centre. Our colleagues at the Visitor Centre will provide a warm welcome and have all the information needed to make the most of your visit, at their fingertips. Inside you will find more about the history of Ferne, heart-warming stories of our animals, and details about how to become more engaged with the work that Ferne Animal Sanctuary does.
Take time to read about Ferne's timeline, its' beginnings in 1939 to the present day! Listen to a recoding of the speech made by our founder, recreated by one of her relatives, via the BBC in August 1939 that launched our unique and historic charity. Make sure you pick up the latest map & animal locations, details about Creative Corner (especially if you have young ones with you), the monthly sanctuary trail & quiz, and even binoculars if you wish.
Then simply enjoy your walk, take in the surroundings, and enjoy your time at Ferne. Our team are always happy to answer any questions you may have so feel free to say hello and ask anyone in a Ferne uniform if you have any queries.
Our animal sanctuary is dog friendly (with leads and please clear up if required). Dogs must not be left in cars. The sanctuary is also accessible via wheelchair.
How to find the Visitor Centre:
Find a space in our large car park by driving down the short lane after you have passed through the gate. You'll go straight on at the very small roundabout with the sign in it and please note that there is a maximum 10MPH speed limit onsite. The car park is then directly to the left. Please park considerately.
There are 3 accessible car park spaces, for blue badge users only, available by turning right at the small roundabout instead of passing straight on.
There is a golden gravel path that leads from the main car park, alongside the field, with fencing to either side, and this will take you to the zebra crossing near the roundabout.
Walk over the zebra crossing, and the Visitor Centre is directly in front of you, with Nina's Café on the right.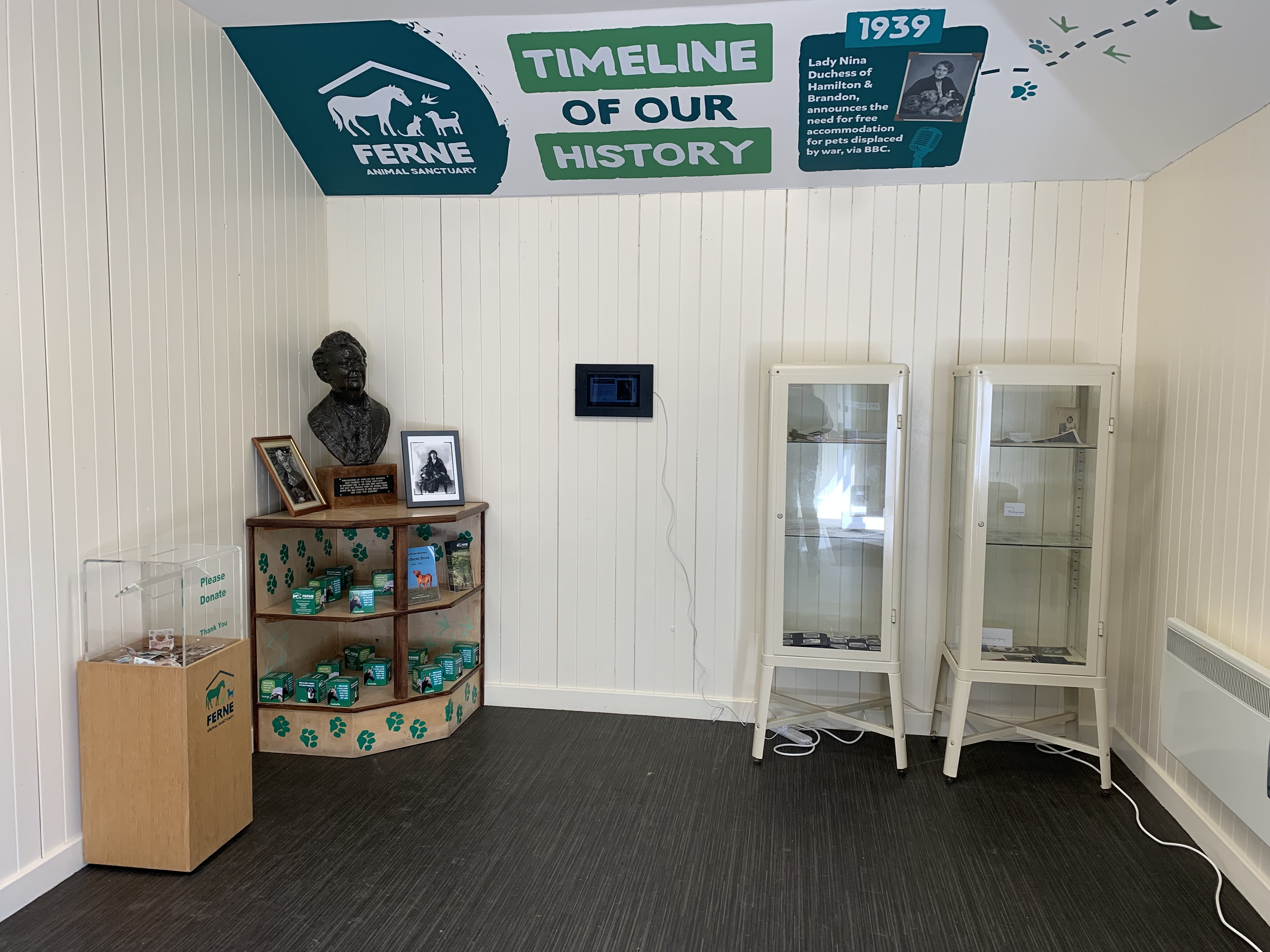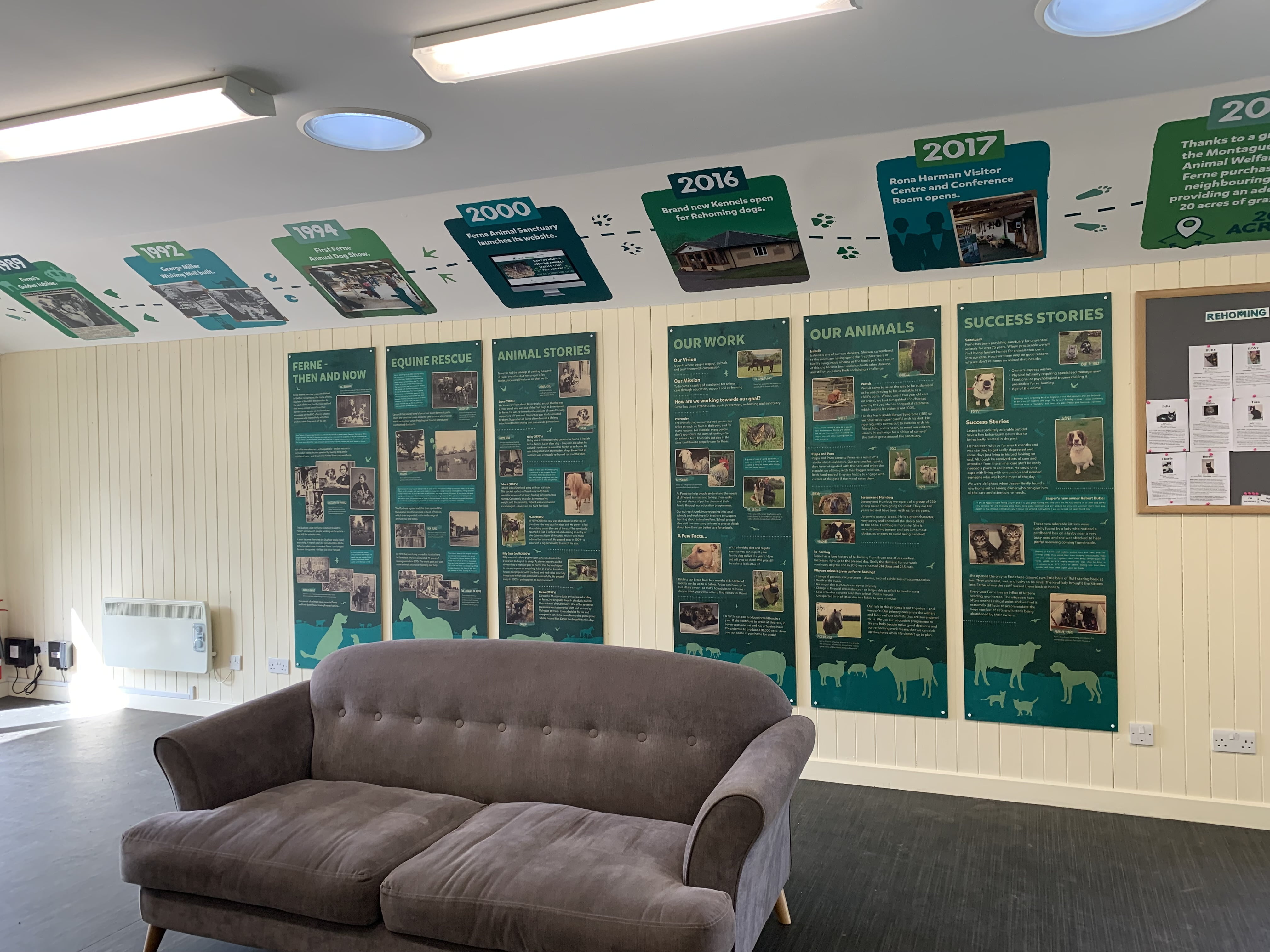 What does it cost?
Admission charges
Our daily pass
*£8.75 Adult
*£7.70 Child (age 3–16)
*£27.45 for a family of two adults and up to three children.
* including Gift Aid
Our annual pass
£22.95 Adult
£19.95 Child (age 3–16)
£75.00 per family of two adults and up to three children.
Guided Tours
We are offering guided tours! Either with our visitor team, to see around the sanctuary, or with a member of our dedicated animal care team, where you will get a real insight into the work that we do at Ferne. Our animal care team will give you an understanding of how the animals are managed and their individual needs are met to keep them happy. alongside introducing you to some of the residents and hear their stories first hand. 
Behind the Scenes:
Price:
£15 per adult
£10 per child
£45 for a family
Visitor Centre Guided Tours:
Price:
£12.50 per adult
£9 per child
£40 for a family
23rd, 24th, 25th, 26th, 27th – October
18th, 19th, 20th, 21st, 22nd – December