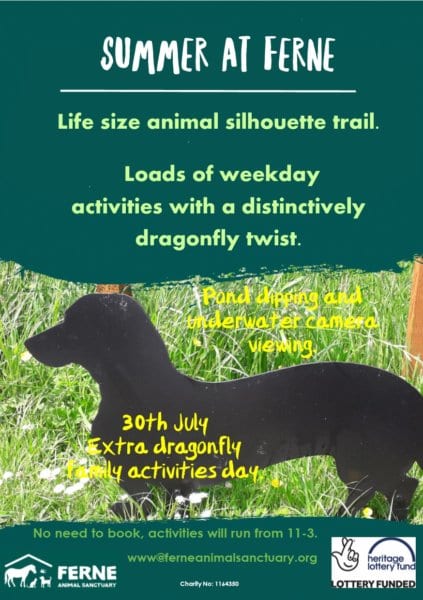 As usual there will be an every day tantalizing trail for all coupled with activities going on every weekday – with a distinctively dragonfly twist.  One highlight will be taking a regular look at what fascinating life is going on in our Dragonfly Pond with live and recorded footage from our underwater camera.
Including Family Dragonfly Activities Day – Tuesday 30th July Only
As well as all of the above, there will be a whole host of additional dragonfly themed family activities taking place on site including printing and making small dragonflies from natural materials and make your own pond.
Plus Dragonfly Identification Workshops – Wednesday 31st July
A morning session at Chard Reservoir with an afternoon session at Ferne Animal Sanctuary, led by Devon County Dragonfly Recorder. Wildlife enthusiasts of all levels of ability are welcome to come along and learn more about these stunning insects.  This event needs to be booked, to do so or for more information: education@ferneanimalsanctuary.org