Our Artists
Ferne would like to thank all of our wonderful artists for their hard work on the Paws Around Exeter Project. We are so lucky to have had our dogs painted by the following: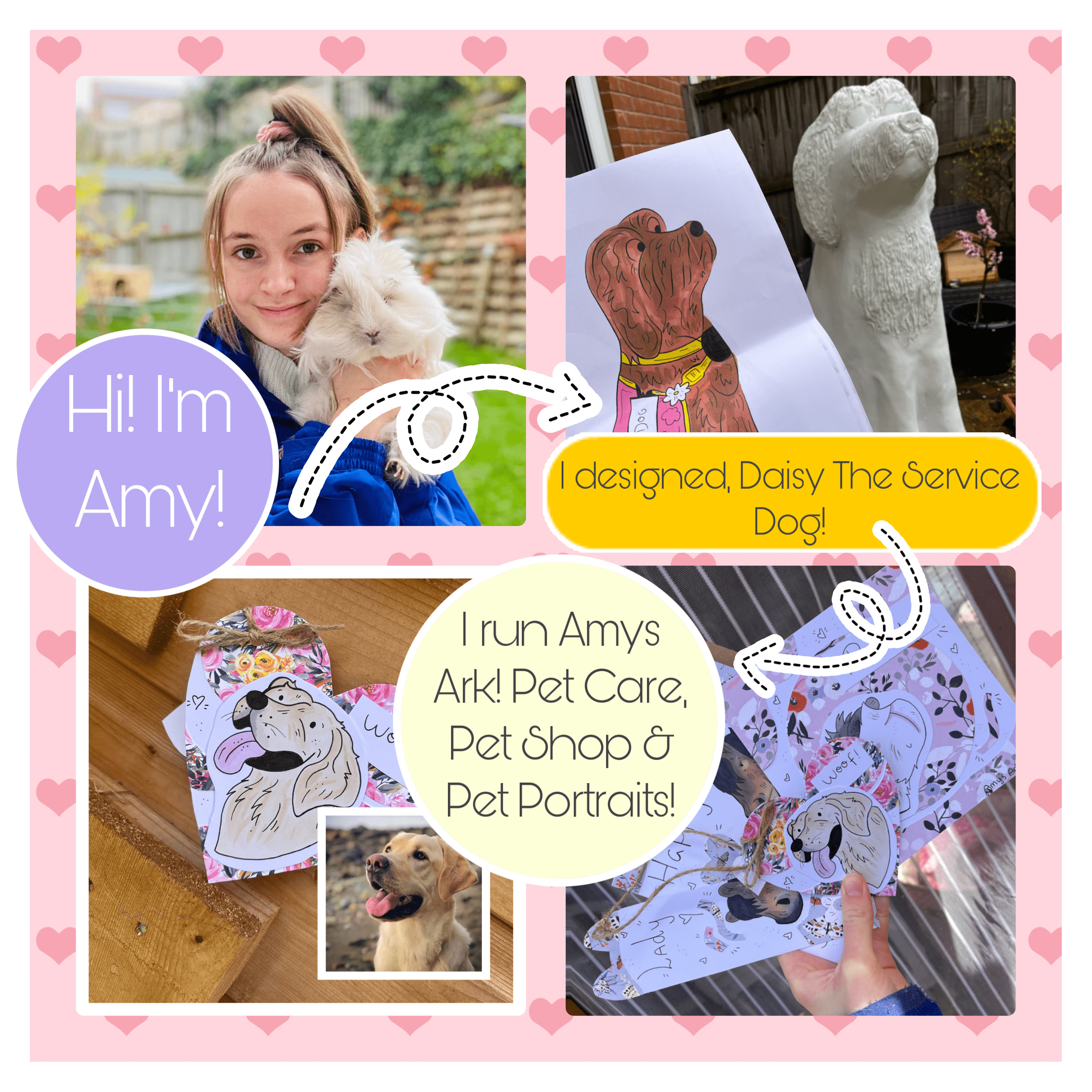 Amy Rosling
I am a cartoon artist and I run my own small business called Amy's Ark. Illustrating people's pets whilst also running an animal care blog with 80k+ supporters. I have a huge passion for animals!
TikTok link: https://vm.tiktok.com/ZMLuHfSc3/
Pet Shop link: https://etsy.me/32VvZvz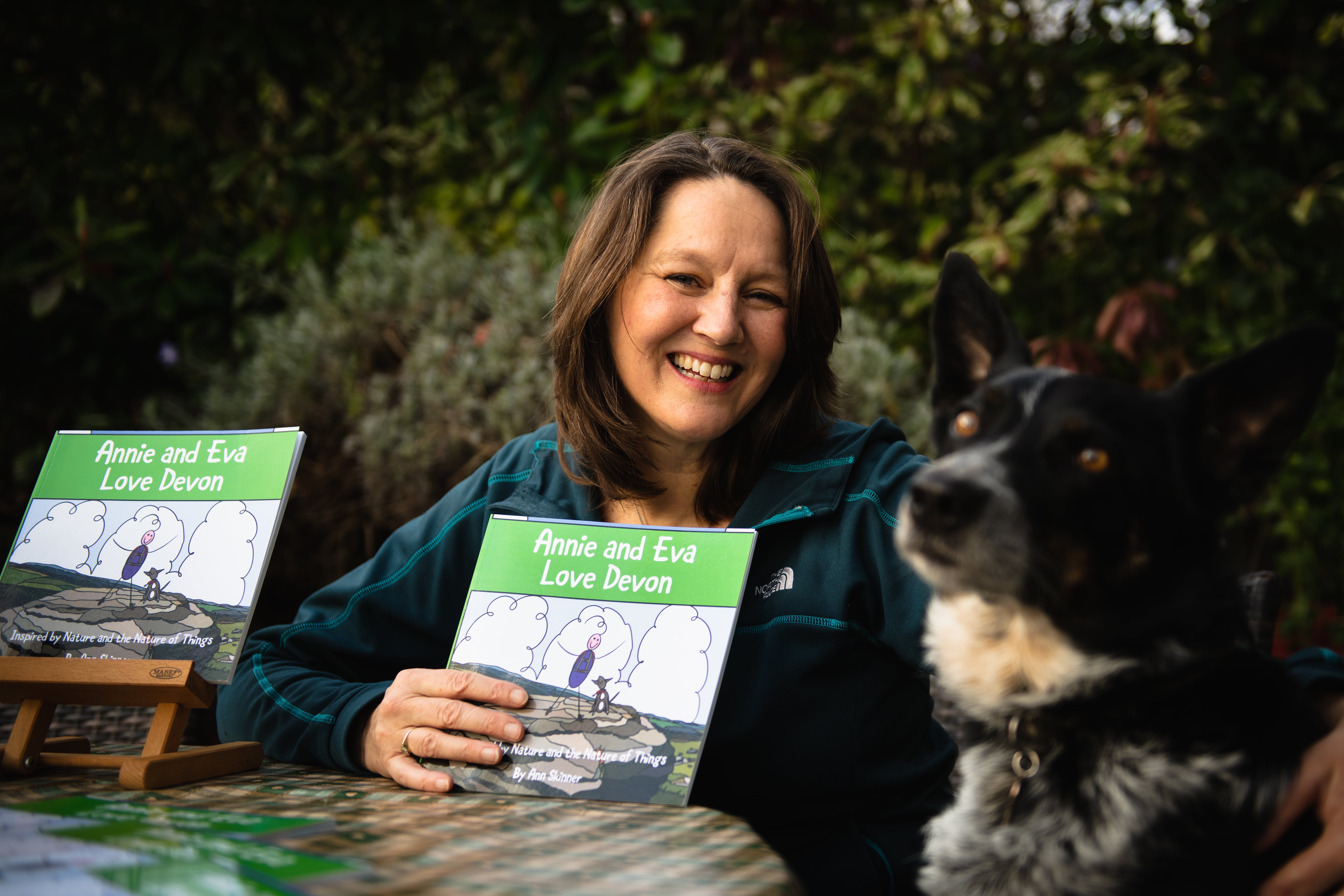 Ann Skinner
I am known as Ann The Heartworker and work as a doodle artist and illustrator, as well as a wellbeing & change facilitator. Amongst other things, I am the creator of 'Annie and Eva' and the published author/illustrator of Annie and Eva Love Devon.  
My doodle work is colourful, heartfelt and inspired by my dog Eva, nature and beautiful Devon. I am also passionate about the environment and animals. My work supports several charities, and I was the artist in residence at Woofstock 2021.  
For the past few years, I have taken part in several art exhibitions at Powderham Castle. This has given me the confidence to scale my artwork and I am currently hoping to move my work off the page and my ipad to bigger canvasses, such as walls and panels (and a 5 foot 3D dog!) 
Ultimately, I want my colourful work to lift hearts, open minds, brighten spaces, whilst sharing the greater message of love and hope. The following links give you an impression of me and my work (although my exhibition work hasn't yet made it to my shop): 
https://theheartworker.com/blog/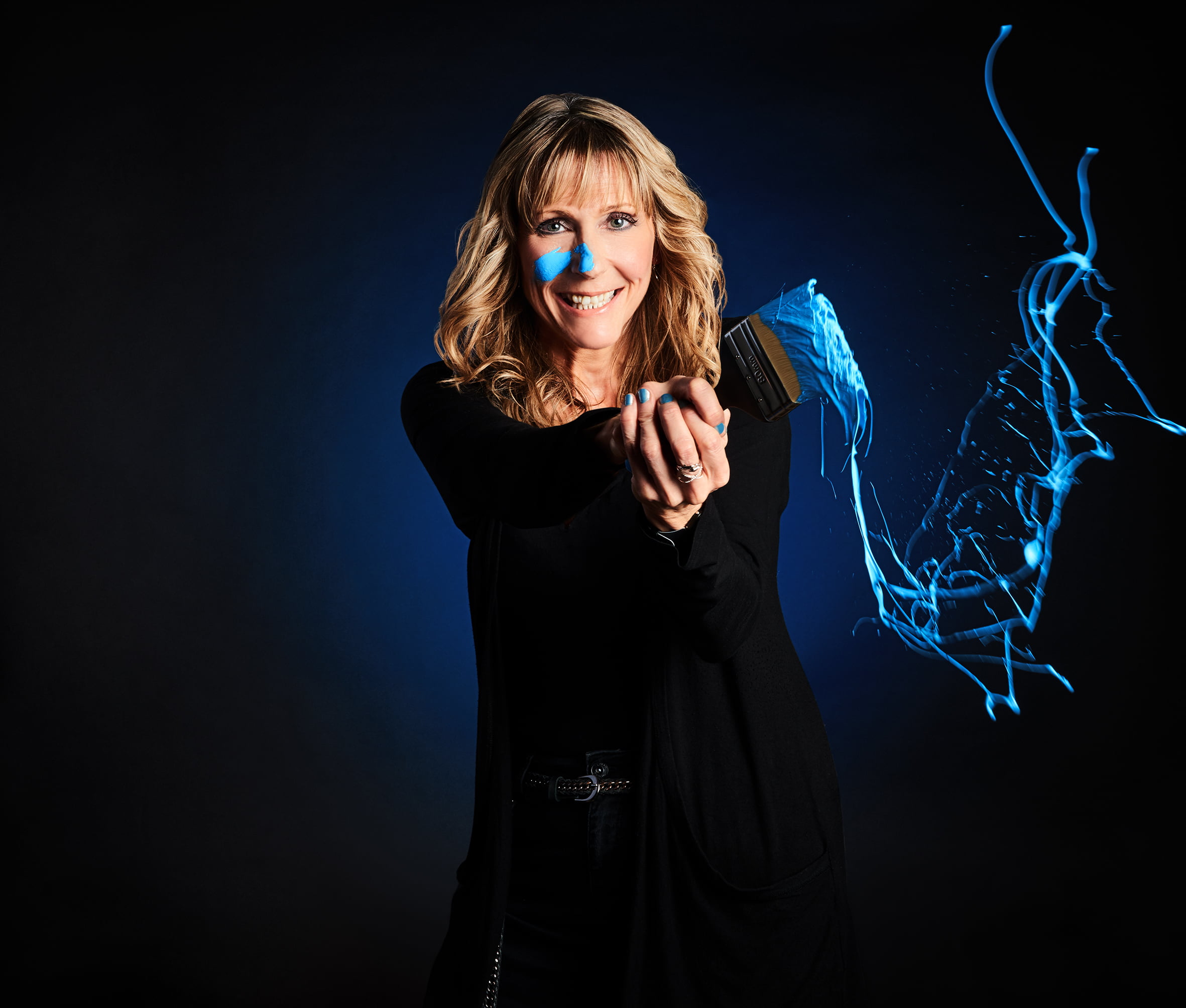 Dawn Fletcher
Since leaving college in Liverpool in 1988, I have been lucky enough to be employed as a graphic designer for a few companies. I have worked in the creative department of RH Advertising in Exeter for the past 22 years. We at RH create campaigns to help promote Ferne and encourage visitors, donations etc, which they solely rely on for the upkeep and feeding costs etc there. I am always proud to work on projects that have a good cause!
I do like taking on a challenge. Some of my passions include DIY, interior design & gardening. So there's usually an element of creativity involved. I conceived & produced a couple of TV adverts recently for RH which was a lot of fun. One for Enjoy Staffordshire and the other for Visit Peak district.
You can see these adverts here…
https://www.youtube.com/watch?v=JbAg83TB98g
https://www.youtube.com/watch?v=1tKynkj00XE
RH's website:
https://www.rhadvertising.co.uk/our-work/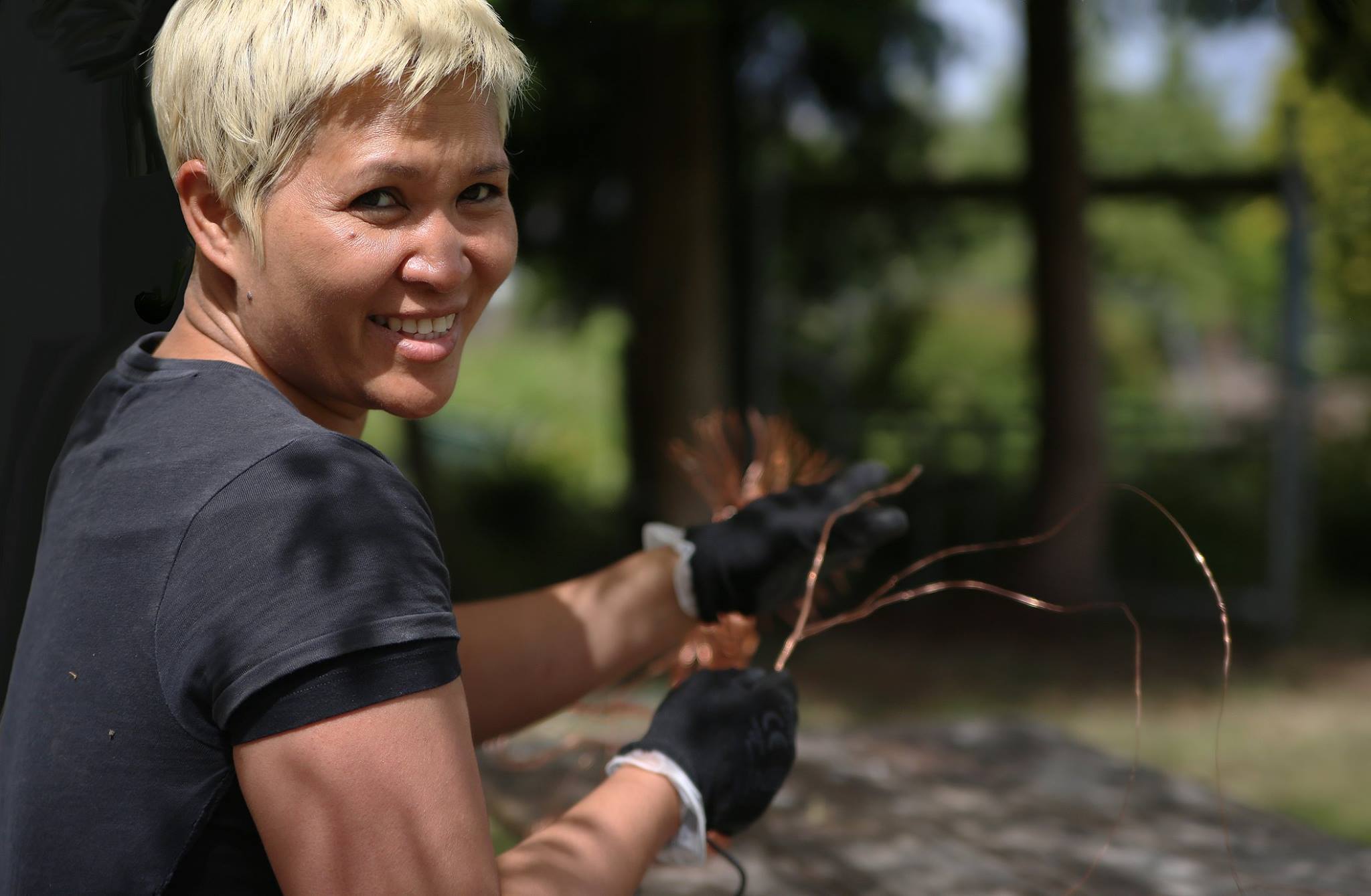 Fon Cosens
For the last 20 years I have worked with a variety of materials such as wire, bamboo and wood to create decorative items and sculpture of various forms. I started working with willow in 2009, making animal sculptures such as pigs, deer, dogs, etc., and garden structures. For this project I am using freestyle mixed media to sculpt and paint.  
Fon Cosens – Willow Sculpture :: Gallery 4 Art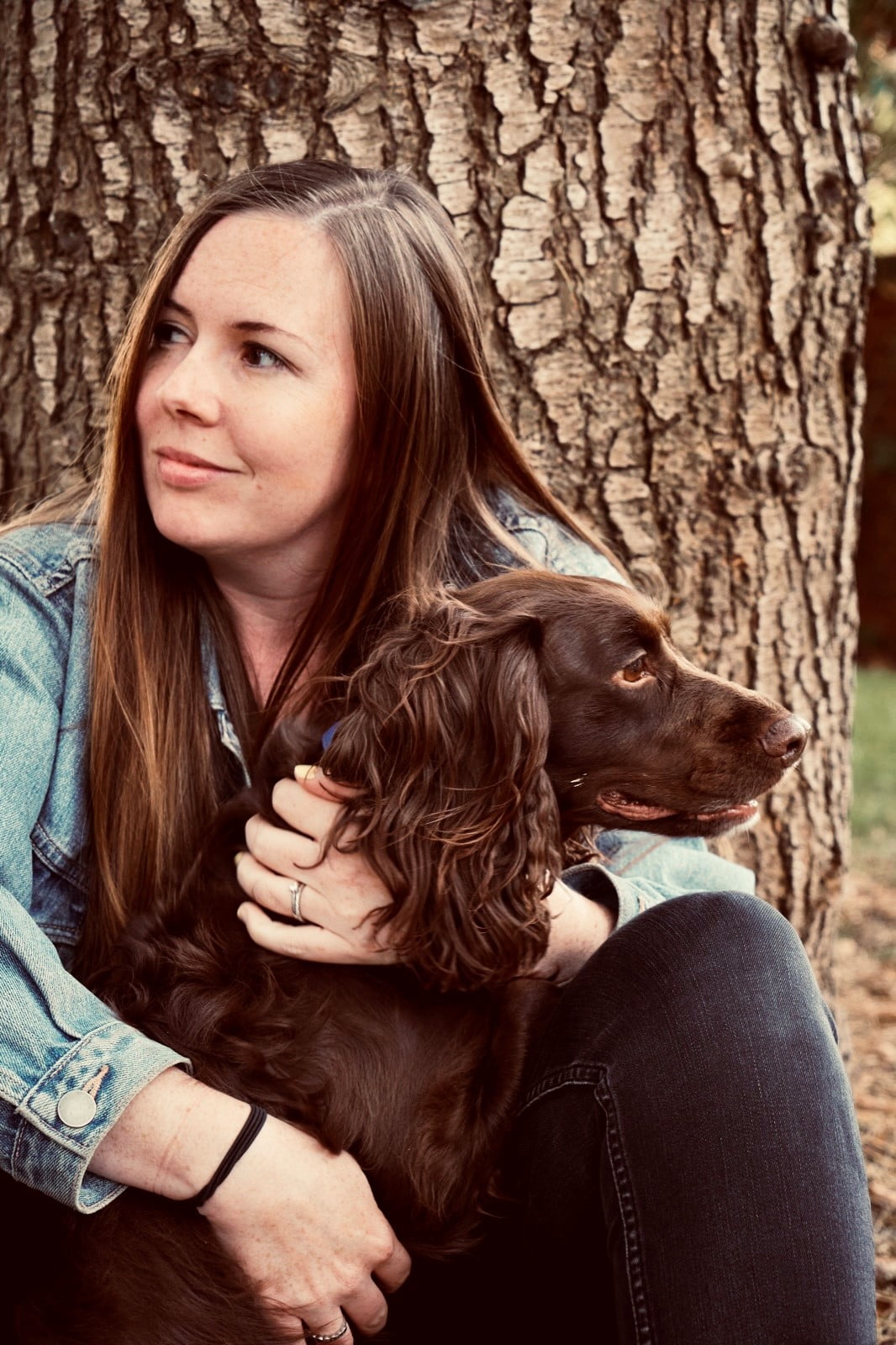 Steph Selway
My style is whimsically illustrative and heavily influenced by children's illustrators- the late great Judith Kerr in particular! I aim to show movement and tell stories with my drawings. I particularly enjoy it when children respond to my images by tracing the lines or mimicking the movements. I was so excited to see this project as I live in Exeter with my family which includes a dog and immediately had so many ideas! The final design is inspired by the many happy dog walks we took when we were living by the quay and riverside in the wonderful community of St Thomas.
Steph's Etsy: click here.
Tony Hunter
Tony Hunter is an artist and designer best known for automotive design work that includes concepts and interiors for Rover, BMW, Jaguar, Land Rover, Volvo and Tata Motors. He was responsible for the interior design of the BMW MINI as well as FAB 1 build for the movie "Thunderbird's" and Land Rovers for "Tomb Raider".
He's always interested in a new challenge, and since mid 2021 he's worked through his own company "Artomobile" on a variety of projects for clients, including design and build of bespoke classic car bodies, conceptual product design, furniture, art installations, and jewellery.
On the very rare occasions he's not doodling away on some new idea, he enjoys wine, films, travel, and to relax with good blast along a coastal road in one of his own classic creations, a unique coach-built 1953 Bentley convertible.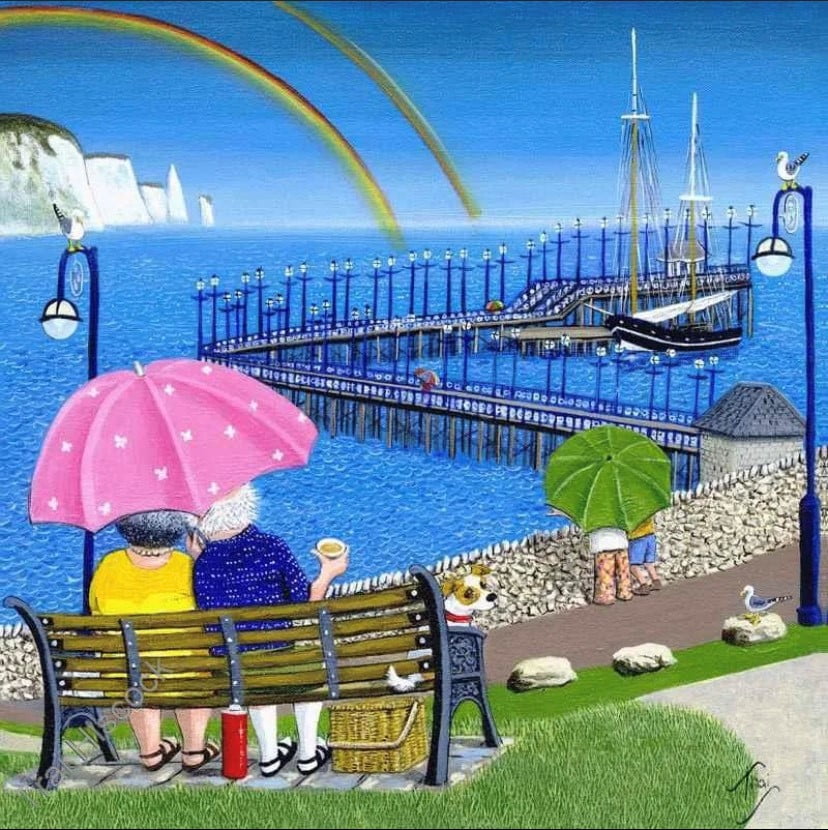 Trai Hiscock
Trai's artwork is often characterised by her love for animals and an admiration for the beautiful countryside she is surrounded by. Her work features many local landscapes, with her 'Old Couple' at the center of many of these adventures, along with furry friends which Trai and her husband have cared for over the years.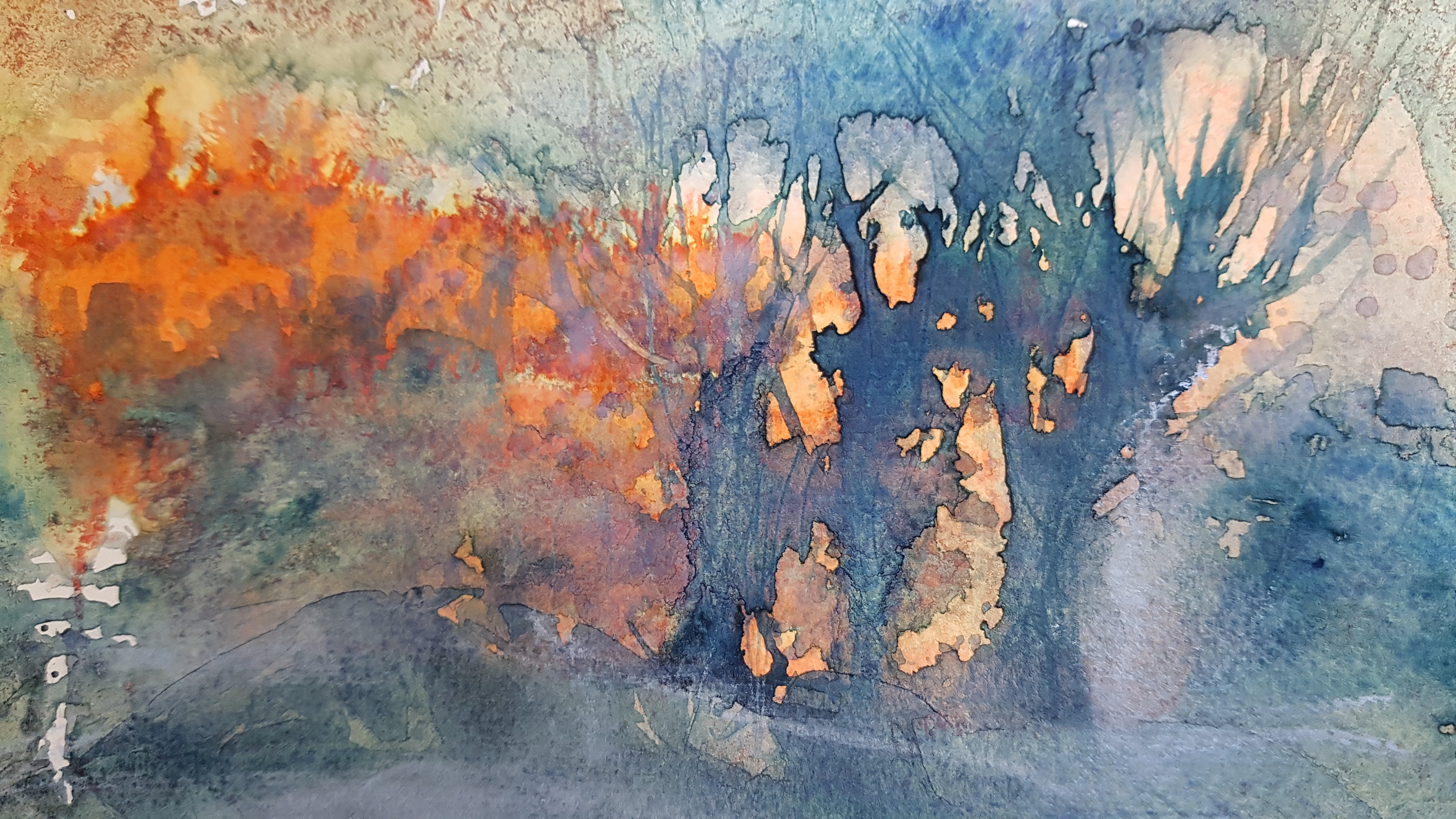 Trudi Ochiltree
I was delighted to be approached by Ferne Animal Sanctuary and asked to paint an Exeter skyline onto one of their dogs. I decided to paint the sky in the colours of the Ukraine flag and call my dog Nadiya which means 'Hope,' to show my support of the people of the Ukraine. In the skyline I wanted to include popular landmarks of Exeter such as the Cathedral, University and some of the churches and the docks. I also included the Exeter Chiefs new logo as a tribute to the rugby and an aeroplane to symbolise the airport. My favourite part has to be the castle where I included the only figure in the painting – a ghost monk who is standing in a doorway! I really enjoyed researching for this piece and painting it, particularly the details. I'm looking forward to seeing the other dogs and seeing Nadiya in Exeter as part of the sculpture trail.
Trudi Ochiltree is a contemporary Fine Artist and Art Tutor based in West Dorset, U.K. She creates atmospheric paintings in watercolour, oils, acrylic and mixed media, inspired by the rural British landscape, seasons and memories. Trudi teaches a weekly adult art classes in Lyme Regis, Wootton Fitzpaine and Charmouth, as well as offering one day workshops and one to one adult tuition. 

Exeter College
A big thanks to all of the following students from Exeter college who are currently studying UAL Award and Diploma in Art & Design:
Nina Yeandle
Brandan Harris and Carla Flemming
Karina Anghel
Zeke Davey
Florence Paul
Evelyn Brinklow & Roxanne Hasley
Lee Smith
Lily Brown & Katie Malloy
Maria Hooten, Noah Howell and Charlotte Harris
The artists were asked how they feel about participating in this project, and these are a few of the statements they came up with:
"Proud to be individually chosen for this live project"
"It was surprising for our our design to be chosen, as well as the amount of them… "
"I like turning my ideas into 3D"
"Not only has this project allowed us to transform our ideas into 3D statues, it has given us the experience of working together, it has also allowed us to share our ideas behind our chosen theme ( the history behind the dog design) and to help Ferne Animal Sanctuary promoting their good deeds, by helping dogs find their Forever Loving Homes"