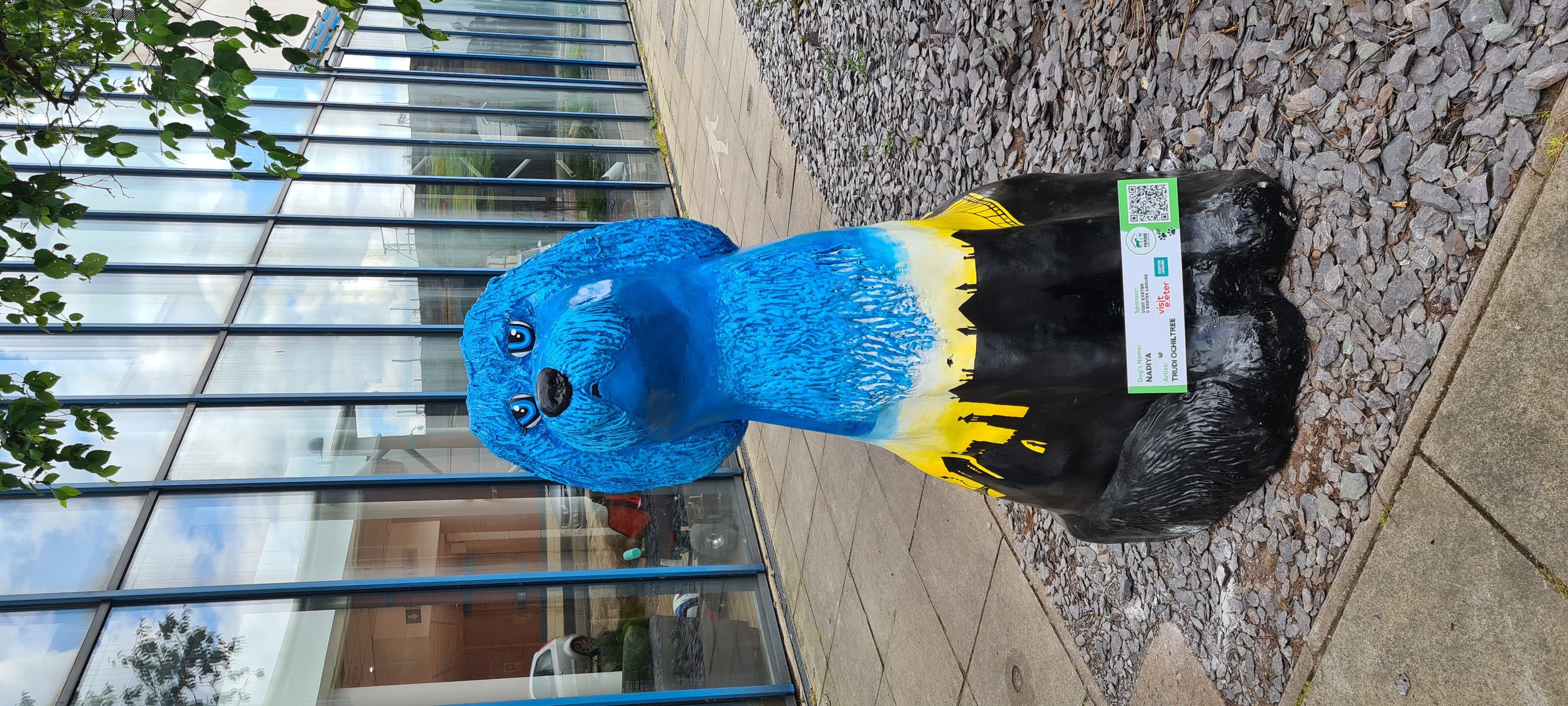 This design represents the Exeter skyline, with the blues and yellows symbolising hope and the dawn of a new day.
Doggy Do's and Don'ts
Dogs like to make friends, give them plenty of opportunities to exercise and play with people or other friendly dogs.
Donate to support the work of Ferne
£3.00
This donation will cover the cost of essential flea treatment for our dogs.
Click below to make this donation.
£5.00
£5 will allow us to microchip each of the dogs that comes to us at the Sanctuary.
Click below to make this donation.
£30
This donation will allow us to give each of our dogs a full veterinary health check.
Click below to make this donation.
OR
Donate whatever you feel comfortable with, using our straightforward donation facility below.
SPONSOR:
Visit Exeter / Exeter Leisure
Visit Exeter is the official organisation responsible for the promotion of Exeter as a visitor destination. Our aim is to increase visitor trips and spend in the city, by positioning Exeter as a year-round sustainable destination for a day visit, city break, business trip or group visit. To find out what to see and do in Exeter, and get inspiration for your next visit, go to www.visitexeter.com. 
ARTIST:
Trudi Ochiltree
Trudi Ochiltree (Fine Art BA Hons, PGCE Art and Design) is a contemporary Artist and Art Tutor based in West Dorset. She creates paintings inspired by the British landscape and seasonal changes. She works in watercolour, oils, acrylics and mixed media:  
"My paintings are expressive with an ethereal quality as I am fascinated by the clues of past human presence in nature and the energy that resonates within the environment. I draw en plein air before an important stage of contemplating my ideas consciously and subconsciously. I then select various aspects from my prep work to use in my paintings, working from this material as well as from memory and imagination. I want to capture the mood of the landscape, depending on the many elements and influences at the time of observing." 
Trudi was a Teacher of Art and Design for 6 years before starting her own Adult Art Class business in 2005. She runs weekly classes in Lyme Regis, Wootton Fitzpaine and Charmouth as well as tuition for visitors at Valley View HQ in Uplyme. She also teaches workshops to local art groups and private students for one-to-one tuition.  
Trudi is a member of Lyme Bay Artists and exhibits regularly at the Sou'Sou' Westerly Gallery, Symondsbury, as well as other venues in the U.K. She accepts commissions and has sold work in the U.K, Europe and Australia.