Funeral Collections
Collecting donations in lieu of flowers at a funeral, is a lasting way to remember a loved one, by supporting a cause that was close to their heart.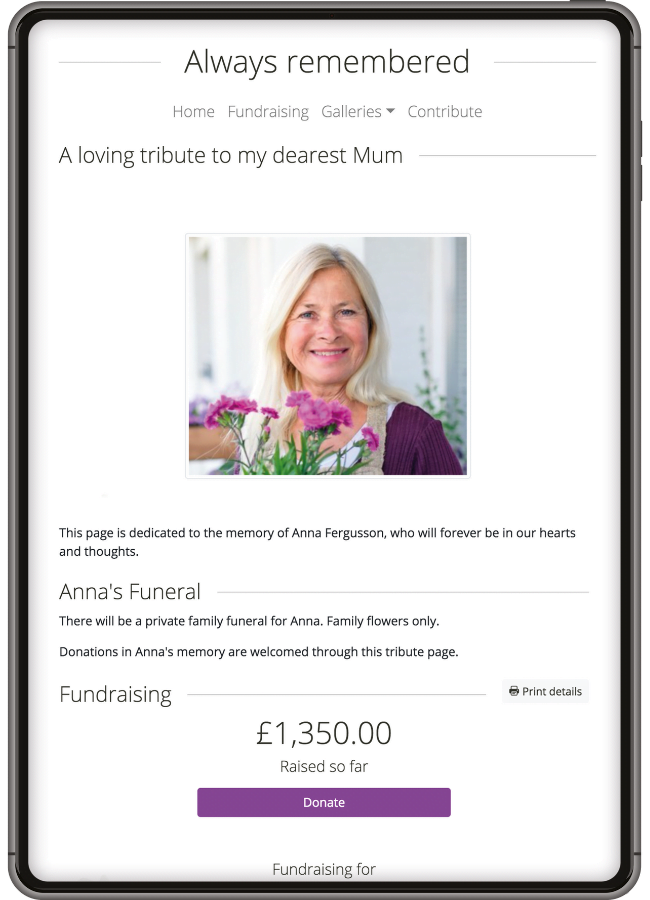 You can create an online funeral collection to let family and friends know of a funeral service or memorial using MuchLoved. Once set up, you can use this funeral notice in different ways, such as collecting donations in lieu of flowers, or as a personalised tribute to share memories, photos and thoughts of your loved one. It can also provide comfort to friends and family who wish to commemorate their life, if circumstances have made it difficult to say goodbye in person.
How does it work?
Similar to a tribute fund, it only takes a few minutes to set up your online funeral/memorial notice. You can begin by clicking here, which will take you through the simple step-by-step process.
Once you have set up your online funeral notice, you may choose to leave messages, light virtual candles, or share the link with friends and family before the day of the service.
Nothing will happen to your online funeral notice once the service has taken place, but you can choose to deactivate the site or archive the funeral notice whenever you're ready. You will then still be able to use the site, to continue sharing precious memories and celebrating your loved ones life as a lasting online tribute.
By Post

If you wish to send the proceeds of a collection made in memory of someone by post, you may send these in to us by cheque. Cheques should be payable to 'Ferne Animal Sanctuary, and sent to us at Ferne Animal Sanctuary, Wambrook, Chard, Somerset, TA20 3DH.
Thank you so much for your kind support