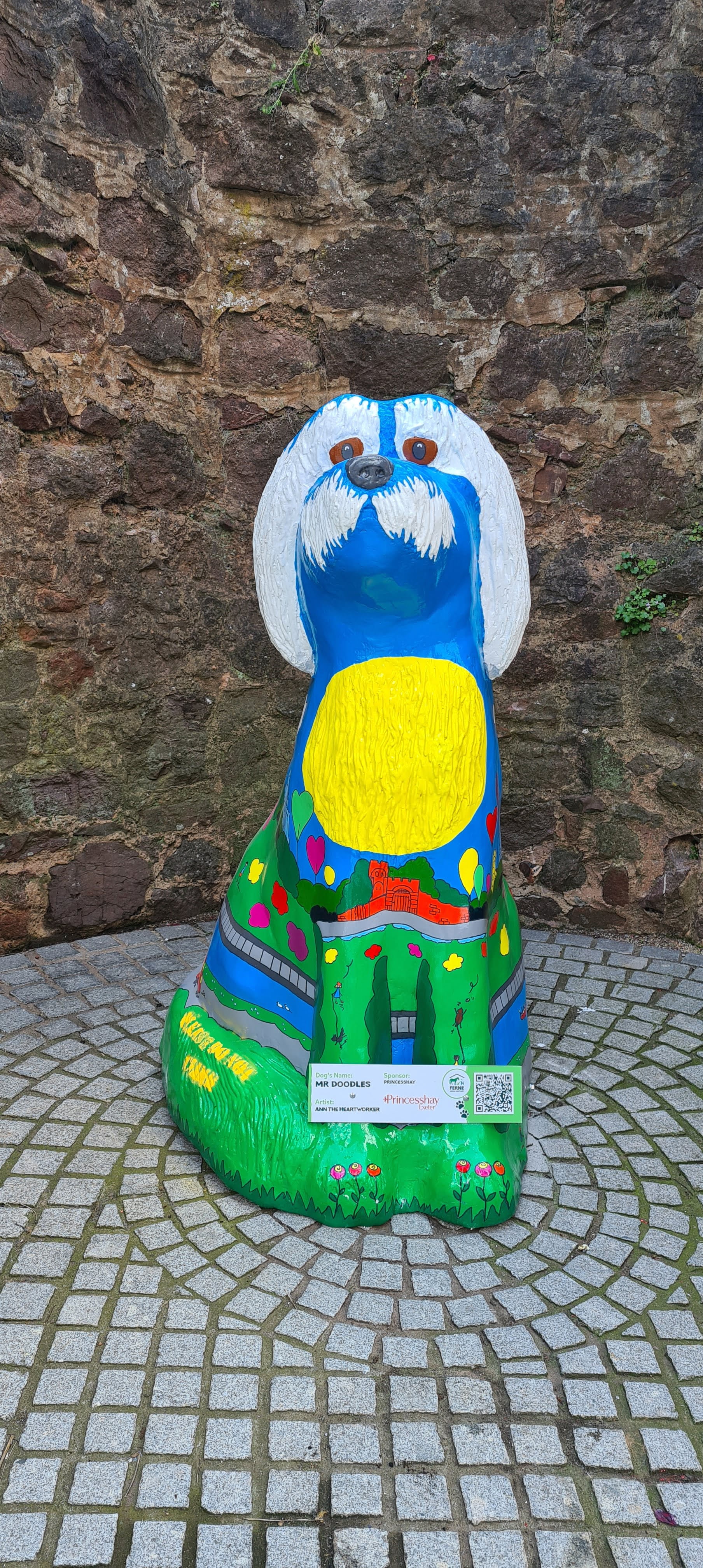 This design focuses on the following three key areas:
1. I wanted to express the beauty, joy and vibrancy of the city
of Exeter, in both colour and sentiment.
2. I wanted to highlight the sustainability message by showing
the many green spaces for people and pets and the
different sustainable ways to travel and be active.
3. Last but not least, I also wanted to show a dog-friendly city
and bring awareness to the importance of responsible pet
ownership by adding the words of positive encouragement
in the clouds.
Doggy Do's and Don'ts
When you stroke a dog, offer out your hand and let them come to you.
Donate to support the work of Ferne
£3.00
This donation will cover the cost of essential flea treatment for our dogs.
Click below to make this donation.
£5.00
£5 will allow us to microchip each of the dogs that comes to us at the Sanctuary.
Click below to make this donation.
£30
This donation will allow us to give each of our dogs a full veterinary health check.
Click below to make this donation.
OR
Donate whatever you feel comfortable with, using our straightforward donation facility below.
SPONSOR:
Princesshay
Princesshay is an outdoor shopping and dining destination in the heart of Exeter with over 60 brands, from the best of the high street to more specialised and independent stores.
You'll find everything you need at Princesshay – whether you're on the hunt for on-trend fashion, beauty, homeware, or even the latest gadget.
Princesshay's line-up of restaurants and cafes, both chains and independents, cater for every occasion and taste. You will find local cuisine and global flavours to choose from coffee and light bites to sophisticated evening drinks and dining everyone is catered for.
Step out with Princesshay – the brands for the things you love to do.
To find out more information about Princesshay visit www.princesshay.co.uk
ARTIST:
Ann Skinner
I am known as Ann the Heartworker and work as a doodle artist and illustrator, as well as a wellbeing & change facilitator. Amongst other things, I am the creator of 'Annie and Eva' and the published author/illustrator of Annie and Eva Love Devon.  
My doodle work is colourful, heartfelt and inspired by my dog Eva, nature and beautiful Devon. I am also passionate about the environment and animals. My work supports several charities, and I was the artist in residence at Woofstock 2021.  
For the past few years, I have taken part in several art exhibitions at Powderham Castle. This has given me the confidence to scale my artwork and I am currently moving my work onto much bigger canvasses, i.e., walls and panels (and ceramic dogs!).  
Ultimately, I want my colourful work to lift hearts, open minds, brighten spaces, whilst sharing the greater message of love and hope. The following links give you an impression of me and my work (although my exhibition work hasn't yet made it to my shop): 
https://theheartworker.com/blog/