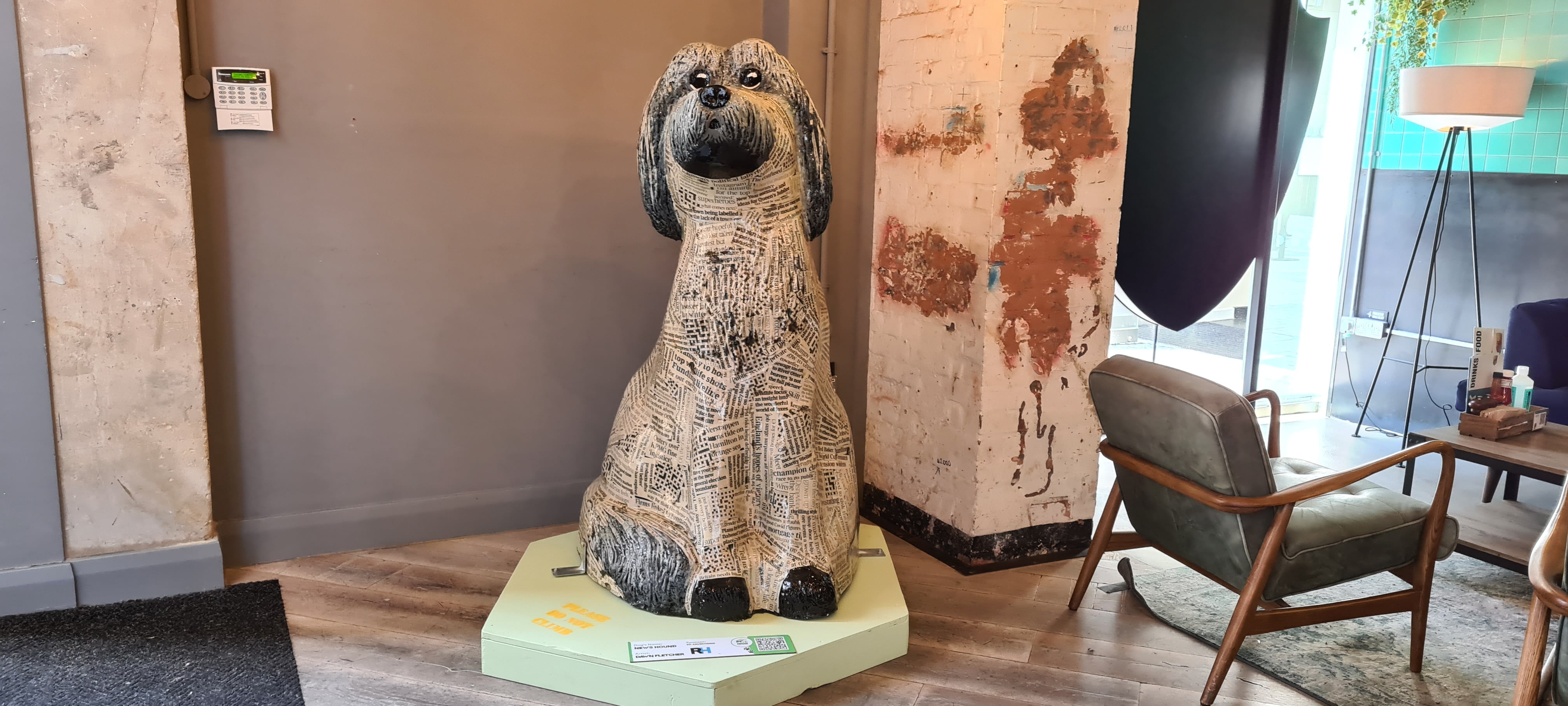 This dog is designed using newspaper clippings from current news both nationally and local to Exeter.
Doggy Do's and Don'ts
Dogs need regular vaccinations and treatments to control parasites and keep them healthy.
Donate to support the work of Ferne
£3.00
This donation will cover the cost of essential flea treatment for our dogs.
Click below to make this donation.
£5.00
£5 will allow us to microchip each of the dogs that comes to us at the Sanctuary.
Click below to make this donation.
£30
This donation will allow us to give each of our dogs a full veterinary health check.
Click below to make this donation.
OR
Donate whatever you feel comfortable with, using our straightforward donation facility below.
SPONSOR:
RH Advertising
RH Advertising is one of Southwest England's largest full service communications agencies. Founded over 40 years ago, we are experts in understanding your business and delivering integrated marketing campaigns.  We offer in-house research, media planning and buying across radio, TV, print and outdoor media, an award-winning creative team, strategy and brand planning, account management services and digital marketing including SEO, PPC, web design, eCRM, as well as email marketing and social media.  We are a passionate team of professionals with a wealth of experience in our specialist fields.  To find out more, see our website: www.rhadvertising.co.uk  
ARTIST:
Dawn Fletcher
Since leaving college in Liverpool in 1988, I have been lucky enough to be employed as a graphic designer for a few companies. I have worked in the creative department of RH Advertising in Exeter for the past 22 years. We at RH create campaigns to help promote Ferne and encourage visitors, donations etc, which they solely rely on for the upkeep and feeding costs etc there. I am always proud to work on projects that have a good cause!
I do like taking on a challenge. Some of my passions include DIY, interior design & gardening. So there's usually an element of creativity involved. I conceived & produced a couple of TV adverts recently for RH which was a lot of fun. One for Enjoy Staffordshire and the other for Visit Peak district.
You can see these adverts here…
https://www.youtube.com/watch?v=JbAg83TB98g
https://www.youtube.com/watch?v=1tKynkj00XE
RH's website: